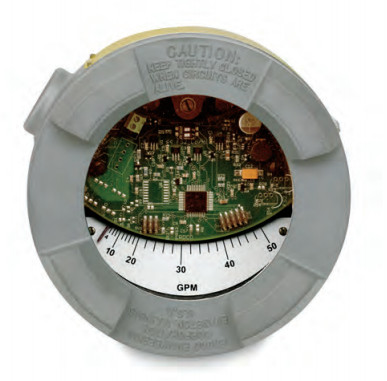 Armor-FloTM 3700
Xuất sứ: USA
Nhà cung cấp: Song Thanh Cong
Hãng sản xuất: ERDCO
Ứng dụng sản phẩm: Air|Gases|Oil|Opaque liquids|Steam|Transparent liquids|Vacuum|Water
Liên hệ tư vấn

Mr Bảo

anhbao@songthanhcong.com

0909.397.313

live:baohuynh080490_1
The 3700 Series meter measures the flow rate of liquid, gas or steam in vertical or horizontal pipelines. In addition, it provides flow proportional signal outputs as well as switch options in an electrical enclosure appropriate for use in Class 1, Division 1, Groups C & D areas. Even without power, the flow rate indicator functions. Features UL Listed enclosure. Low pressure loss. Install in horizontal or vertical pipe systems. Local flow rate indicator operates without power. Direct reading, each instrument is individually calibrated for the operating conditions specified. Available with signal and switch options.
Several signal output options are available:
4-20 mA two wire loop powered transmitter.
4-20 mA transmitter with two adjustable set points.
Low flow limit switch. Adjustable 20-50% of full scale. SPDT contacts rated 0.25 A @ 120V ac/1.5 A @ 24V dc.
High flow limit switch. Adjustable 50-90% of full scale. SPDT contacts rated 0.25 A @ 120V ac/1.5 A @ 24V dc.
Low and high flow limit switches. There must be a 30% of full scale differential between low and high switch settings. SPDT contact rated 0.25 A @ 120V ac/ 1.5 A @ 24V dc.
Agency approval:
UL listed enclosure for metering equipment:
Class l Groups C & D
Class ll Groups E, F & G
Transmitter Supply Voltage: 20-30V dc
Transmitter Supply Current: 50 mA
Accuracy: ± 2% Full Scale
Repeatability: ± 1% Full Scale
Temperature Limits:
0 to 85°C (32 to 185° F) with transmitter
-23 to 121° C (-10 to 250° F) with buna-n o-ring
-23 to 204° C (-1- to 400° F) with limit switches and Viton® or ethylene propylene o-ring.
Materials of Construction:
Housing: 316 stainless steel
Shunt: 316 stainless steel or carbon steel
Vane: Cobalt/chromium/nickel alloy
Window: Tempered glass O-ring: Buna-n, ethylene propylene, Viton® or perfluoroelastomer
Piping Connections:
1

/2" to 1″ NPT female (400 psig)
1

1

/4" to 4″ NPT male (200 or 400 psig)

1

/2" to 3″ Tri-clamp (200 psig)
1

1

/4" to 6″ Grooved (200 psig)
1

1

/4" to 6″ Beveled (200 psig)

1

/2" to 8″ 150# RF/FF ANSI carbon stl flanges (200 psig)

1

/2" to 8″ 300# RF/FF ANSI carbon stl flanges (400 psig)

1

/2" to 6″ 150# RF/FF ANSI stainless stl flanges (200 psig)

1

/2" to 6″ 300# RF ANSI stainless stl flanges (400 psig)
15 to 25 mm, DIN 2999/BS21 ISO R7 threaded female (27.6 barg)
15 to 150 mm, DIN PN 16 stainless stl or carbon stl flanges(13.8 barg)